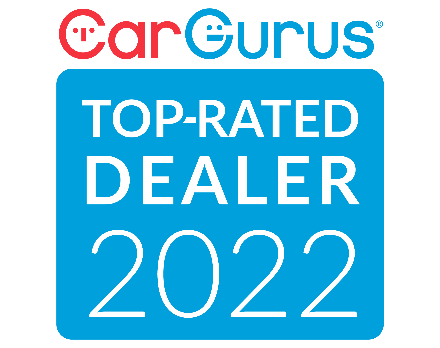 For years, we've been Fort Myers' home for Volkswagen. Our commitment to excellence hasn't gone unnoticed, as we've been named a 2022 CarGurus Top-Rated Dealer award winner. This is the second year in a row that Volkswagen of Fort Myers is a Top-Rated Dealer, after earning the award in 2021 for the 2020 year.
It's no surprise that our Volkswagen dealership in Fort Myers is a multi-year award winner. We're a fun and friendly place to experience the very best of Volkswagen. With access to more exciting vehicles, a friendly staff of experts, and a process that puts Fort Myers customers in the driver's seat, it's clear to see why we're a 2022 CarGurus Top-Rated Dealer.
How Our Fort Myers Volkswagen Dealership Became a CarGurus Top-Rated Dealer Award Winner
What does it mean to be a Top-Rated Dealer? This CarGurus exclusive honor is an annual award that recognizes dealerships that go above and beyond to deliver exceptional customer service.
Volkswagen of Fort Myers received average ratings above the 4.5-star out of 5-star requirement from verified CarGurus shoppers. Thousands of reviews are left every year on CarGurus, and it's clear to see why we're not only Fort Myers' Volkswagen destination, but we're also a Top-Rated Dealer across the country.
This award wouldn't be possible without the trust of our loyal Fort Myers customers, who come to us for every driving need. We humbly accept this award and strive for excellence as a Top-Rated Dealer award winner in back-to-back years.
Our Volkswagen Dealership in Fort Myers Is Committed to Excellence
Check out our Top-Rated Dealer award plaque when you visit Volkswagen of Fort Myers, where you drive the sale. Our friendly team is here to assist your search, not dictate it. See Top-Rated Dealer badges around our Fort Myers dealership and on our Volkswagen showroom floor. Here you'll find the latest Volkswagen models with an upfront Sonic Price®.
Experience award-winning customer service in action by visiting Volkswagen of Fort Myers. As a Top-Rated Dealer in Fort Myers, we create a relaxed atmosphere, thanks to our automotive enthusiasts who desire taking your driving experience to an even sunnier destination.